Camden Art Center will present a solo exhibition of Tenant of Culture, the Anonymous by Dutch artist Hendrickje Schimmel (b. 1990, Arnhem, Netherlands) in July 2022. The artist, whose practice is characterized by a reuse of discarded materials to give birth to new forms in a material exploration of consumer culture and waste, will create an ambitious new site-specific installation, his largest work to date.
Tenant of Culture is the third recipient of the Camden Art Center Emerging Artist Prize at Frieze. The artist's research for her new exhibition began in the archives of the Camden Art Centre, where she discovered a reference to the mass labor of women in the laundry industry in 19th century Britain – including the extent, the artist discovered, is largely undocumented.
The exhibition draws on and extends the artist's longstanding exploration of consumer culture and the vast and problematic waste accumulated via the fashion industry. Repurposing discarded garments and accessories into new sculptural forms, the resulting works nod to ancient relics, both desirable and monstrous, reminiscent of the unstable cycle of trends and fashion, and exploitative and often invisible supply and demand economies.
In Gallery 3, huge sculptural forms, composed of a bespoke suspension system and reminiscent of high-end fashion display mechanisms, will suspend a mass of synthetically colored textile works composed of used and reassembled garments. Deconstructed, bleached, re-dyed, reassembled, wrung, pressed, suspended and stretched, the sculptures reflect the methodologies employed in the laundry and textile dyeing industries. The garments that make up the sculptures are made from recycled denim, waterproofing and performance apparel – materials that require huge amounts of water and chemicals to produce and finish – and have been treated with acid or enzymes to produce synthetic and toxic colors. The artist intentionally steers away from materials commonly associated with sustainability and avoids romantic depictions of 'organic' and 'natural' tones and fabrics. Instead, recycled clothing and accessories are made from plastics and synthetic fibers, dyed in harmful, bright and artificial colors. Large and formless in scale and form, at odds with the refined allure of high-end, fast fashion, the works seek to make visible the historical and contemporary problem of wastewater created by industrial-scale laundries and the textile production methodologies that are intrinsic to the fashion industry.
In researching this process, Tenant of Culture discusses a clear lack of information about the industrial history of fashion and thus highlights the lack of value we place on women's work: the industry today is still made up mostly of female workers and this centuries-old process is still informing modern mass production. If capitalism produces a plethora of clothes that have some exchange value for a given moment, and if these items, largely produced by women, quickly become waste, where is the value, who decides and at what price ?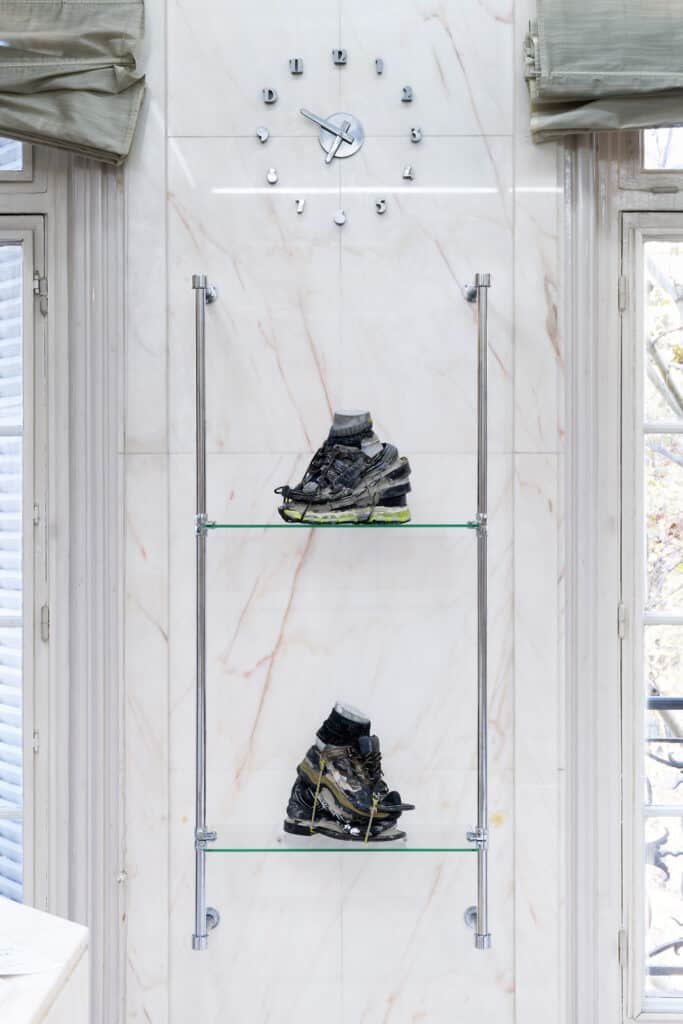 Tenant of Culture July 8 – September 8 Camden Arts Center
About the artist
Tenant of Culture is the artistic practice of Hendrickje Schimmel (born 1990 in Arnhem, Netherlands), who lives and works in London, UK. She received her MA in Mixed Media from Royal College of Art, London, UK in 2016, and completed a BA in Womenswear from Hogeschool voor de Kunsten, Zwolle, Netherlands in 2012. Solo exhibitions at upcoming include: Camden Arts Centre, London, UK (2022) and Soft Opening, London, UK (2022). Recent solo exhibitions include Et Al., Kunstverein Dresden, Dresden, Germany (2021); Autumn Cloth, Sophie Tappeiner, Vienna, Austria (2021); Georgics (how to style a chore coat), Fons Welters, Amsterdam, Netherlands (2020); I forgot to tell you that I changed, Het Fries Museum, Leeuwarden (2020); Eclogues (an apology for actors), Nicoletti Contemporary, London (2019); Works and Days, Outpost Gallery, Norwich (2018); Deadstock, Sarabande Foundation, London (2018); Climate | Change, Clearview, London (2017) and The Latest Thing, CODE ROOD Koningsweg, Arnhem (2016). Selected group exhibitions include: Fittings with Kinke Kooi, Exile Gallery, Vienna (2020); Image Power at the Frans Hals Museum, Haarlem (2020); Transformers at Future Gallery, Berlin, Germany (2020); Gubbinal at Project Native Informant, London (2019); NEW RUINS at Soft Opening, London (2019); Artquest Peer Forum at Camden Arts Centre, London (2018); Out of Fashion at the Centraal Museum, Utrecht (2017); Bloomberg New Contemporaries at the Institute of Contemporary Art, London (2016). Tenant of Culture's work is in the collections of the Fries Museum, Leeuwarden and the Stedelijk Museum, Amsterdam, The Netherlands. In 2020, Soft Opening published the artist's first monograph in collaboration with Charles Asprey who was one of the winners of the Swiss Most Beautiful Books Award.
Categories
Key words
Author
Marc Westall
Mark Westall is the founder and editor of FAD magazine, founder and co-editor of Art of Conversation and founder of the @worldoffad platform
Tenant of Culture – Georgics (how to style a chore coat): The title of this exhibit is derived from The Georgics, a poem by the ancient Roman poet Virgil (70 BC – 19 BC).
Today, Camden Art Center and Frieze announce Tenant of Culture as the recipient of the 2020 Camden Art Center Emerging Artist Prize with Frieze. Tenant of Culture, which is represented by Soft Opening, London, will have a major exhibition at Camden Art Center in 2022.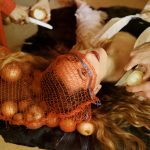 This week's isolation guest is Nora Silva. She is a multidisciplinary artist based in London, cook and singer born in Madrid (Spain). Silva graduated from the Royal College of Art and has since performed at the Tate Exchange, Design Museum and Camden Arts Center in London.
Camden Art Center launches The Botanical Mind, this free online program of new artist commissions, podcasts, film, text, images and audio, expanding and enriching the ideas and issues that inform the show.