Downtown
Arts Chauvet open We Are Nashville: Act One in May, and the exhibition will continue until July. It's long for an exhibition in a Nashville gallery, but the photojournalist Philip HolsingerThe deep and immersive portrait of the community captures the stories of everyday Nashvillians in journal entries, photographs, short films and audio interviews archived over the past five years. There's a lot to see here, and it's the kind of sight that rewards multiple visits. This long, slow schedule creates an especially inviting environment to spend time meeting new neighbors this summer.
Amber Robles-Gordonit is Sovereignty: acts, forms and measures of protest and resistance open to Contemporary Tinney on May 28, and the gallery will host a reception for the exhibition on Saturday from 2 to 8 p.m., making it an ideal stop for anyone interested in early art. The large-scale multimedia quilt exhibit examines American politics and governance of the Populated Territories and the District of Columbia. Robles-Gordon's painting, textiles, and hand-stitched assemblages eschew the clichés of most political protest art by embracing the mysterious message of striking abstract compositions instead of slogans and pure propaganda. Double-sided designs hang like banners, displaying a postmodern mix of elements of national flags, Doppler radar aesthetics, indigenous art, domestic ritual, and references to the mid-century Abstract Expressionist art movement known as the name of Washington Color School.
East of Nashville
To Red Arrow Gallery this month, the talented Ashante Kindleit is Gestures of joy engages in a complex and nuanced exploration of joy as expressed through black women's hair culture that any fan of painterly abstraction will be able to engage with and identify with. Kindle uses acrylic paints, materials from hair accessories and other found objects to create paintings ranging from monochromatic works in shades of black to brightly colored pieces exploring various textures expressing everything, as the statement says. from Kindle artist, "that 1995 Easter Sunday press & curl kinda joy" to "that braids and beads are kinda joy. Red Arrow has always focused its diverse roster on strong abstract painters, and the new exhibit of Kindle is emblematic of what the gallery does best. Red Arrow will open the exhibition with a reception this Saturday at 6 p.m.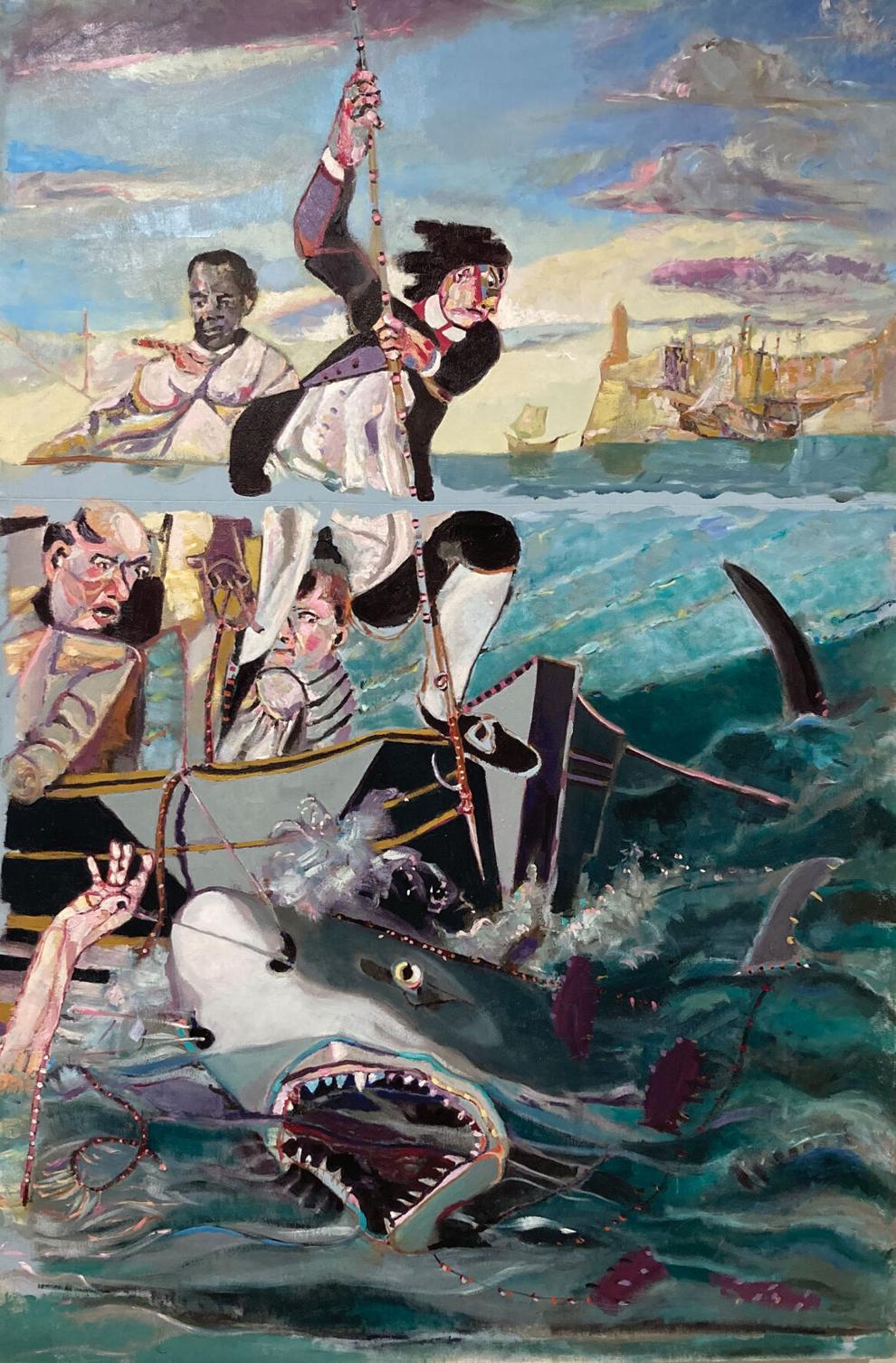 Wedgewood-Houston
I mentioned Greely Myattnew exhibition of sculptures at David Lusk Gallery in the last month column. Pointing and throwing bricks is a whimsical examination of personal responsibility in a time of social media-fueled cultural conflict. The show continues until June 11 and the gallery will be open from noon to 7 p.m. on Saturday. Myatt will be attending the event and giving a talk at the gallery at 1 p.m. Myatt is one of those Memphis-based artists who is emblematic of David Lusk's strong roster of artists, and this talk will shed light on the current themes of this exhibition as well as those of Myatt's signature penchant for the transformation of found objects.
I love John Huston's 1956 adaptation of Herman Melville Moby-Dick. One of the most iconic scenes in this film is the church sermon given by Father Mapple, played by Orson Welles. In both the book and the film, Mapple tells the story of Jonah and the whale to a group of sailors about to set sail, addressing his maritime parishioners as "shipmates". New sailors exposure to Zeigeist take Moby-Dick as a starting point for approaching community labor, featuring the painting and sculpture of Daniel Reydy and Greg Pondwith musical contributions from Cesar Leal.
Cooperativeis only a few months away in its new, larger space at The Packing Plant, but it's already starting to pay off with larger-scale programming like this month's video installation. Abracadabra is a collaboration between the gallery and the Vanderbilt University Department of Art's 2022-2023 initiative, Vanderbilt, Arts, and the Middle East: Building Bridges to the Global and the Local. The exhibition includes works by three women artists from the Middle East: a movement artist based in Saudi Arabia Sarah BrahimIsraeli media artist Ronnie Karfioland Iranian artist Laleh Mehran. As the title of the Vanderbilt initiative suggests, Abracadabra is intended to illuminate viewers' understanding of a part of the world with which America is both connected and in conflict. It also aims to reflect a better understanding of the Middle Eastern diaspora which includes our own neighbors in Nashville. Brahim is a trained dancer whose performances blend live music and vocals with percussive footwork reminiscent of styles ranging from folk to tap to hip-hop, and it's refreshing to see an 'artist of movement' which can really sabotage.
I wrote about Unshared hobbiesthe May exhibition, Raheleh Filsoofi: Artifact, last week, and it continues through June. It is an intense and moving video and sculpture installation that offers a great example of how performance artists can and should do more with video than just documenting their work. Unrequited Leisure really knocked it out of the park this year, with shows from female video artists, including this show and that of Mary Addison Hackett Anonymous was a Vlog, which ran in February and March. I love it when galleries change their programming, but it can also be important for a space to be clear and consistent in its mission, and Unrequited Leisure's focus on striking art exhibitions on screen makes it one of of the most exceptional places of art in the city. The gallery will also host Jodi Minnis their Airspace) Mast posting on Saturday. Minnis' recent work focuses on reclaiming and rejecting stereotypes of black women in Bahamian culture, questioning why a tourist community must represent itself with outdated racist images. Unrequited Leisure will be open from 1:00 p.m. to 8:00 p.m. on Saturday and will host a real flag raising for Minnis at its official reception from 5:00 p.m. to 8:00 p.m.